Ryanair Launches Connecting Flights At Milan Bergamo
21 Jun 2017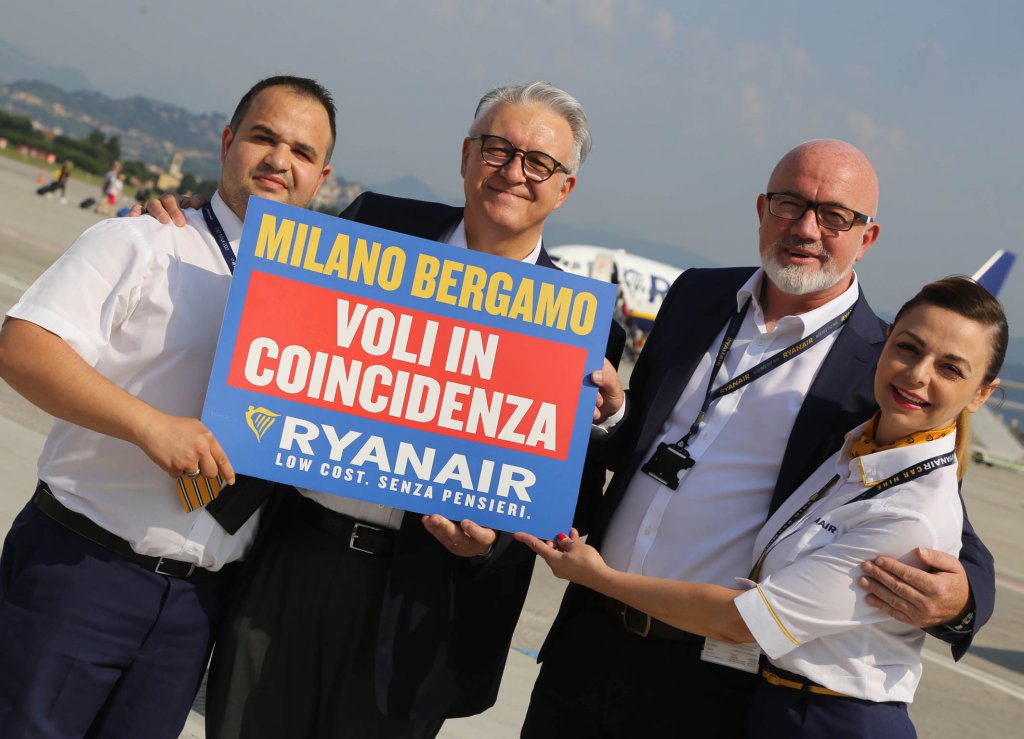 Ryanair, Italy's No. 1 airline, today (21 June) extended its connecting flights service to Milan Bergamo Airport, providing Ryanair customers with an expanded route choice, and the opportunity to book and transfer directly onto connecting Ryanair flights. Following the successful launch of connecting flights at Rome Fiumicino last month, from July 3rd, Ryanair customers can:
Book connecting flights on the first 25 (of up to 300 new routes) via Milan Bergamo on Ryanair.com
Connect to/from Alicante, Athens, Barcelona, Bari, Brindisi, Cagliari, Catania, Corfu, Ibiza, Lanzarote, Lamezia, Madrid, Malaga, Malta, Naples, Palermo, Pescara, Trapani, Valencia and Zaragoza
Transfer 'airside' between connecting flights without having to go 'landside'
Checked-in baggage transferred through to their final destination
One booking reference for both flights
This connecting service is the newest initiative delivered under Year 4 of Ryanair's "Always Getting Better" programme, with more connecting services to be rolled out at other airports across the Ryanair network later this year.

In Milan Bergamo, Ryanair's Chief Commercial Officer David O'Brien said:
"Ryanair is pleased to extend our connecting flights service to Milan Bergamo Airport from 3rd July, allowing customers to book connecting Ryanair flights on the lowest fares at our largest Italian base. Starting with an initial 25 new routes (rising up to 300), customers will be able to transfer onto their next flight without having to go landside, and have their bags checked through to their final destination.

This new service under Year 4 of our "Always Getting Better" programme, will be rolled out at other Ryanair airports throughout our network, (with even more routes to be added in the coming weeks and months). Ryanair.com, the world's most visited airline website, also sells 20 long haul Air Europa routes to North and South America. We are continuing our discussions with Aer Lingus and Norwegian – and other potential partners – with a view to launching connections with them later this year as we continue to implement the latest round of upgrades to improve the customer experience.

To celebrate the launch of the connecting flights we are releasing 5,000 seats for sale on 10 routes from Milan Bergamo from just €9.99 for travel between July and September 2017 which are available for booking until midnight Thursday (22 June). Since these amazing low fares will be snapped up quickly, customers should log onto www.ryanair.com and avoid missing out."

SACBO Director General, Emilio Bellingardi said:
"Ryanair's launch of connecting flights at our airport is a further step in the development process implemented by the airline in its main Italian and southern European base, which is therefore becoming the most important hub in Europe in terms of connections. The 15-year-old partnership is successful both on the operational aspect and on the destination offer and flight punctuality, and finds an adequate response from the airport infrastructure, designed to provide even more comprehensive services and better face the needs of passengers."
Source Corporate Ryanair