Connect with your social network account
Moderators: Ryanairflyer, Ryanairmadrid, EchoVictorOscar
FR Lover

Posts: 523
Joined: 02 Mar 2016, 22:27
Location: Madrid Barajas
New Cabin Bag Policy Commences On Monday 15 Jan – All Customers Travelling Next Week Notified By Email
10 Jan 2018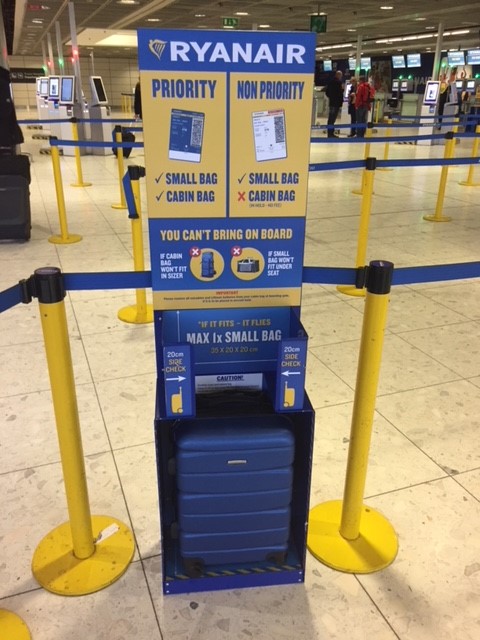 Cheaper Checked-In Bags & Bigger Bag Allowance
Ryanair, Europe's No 1 airline, today (10 Jan), reminded customers that its new cabin bag policy will come into effect on Monday 15th January where:

– Only Priority Boarding customers (including Plus, Flexi Plus & Family Plus) will be allowed to bring two carry-on bags on the aircraft.
– All other (i.e. non-priority) customers will still enjoy a two-bag allowance but will only be allowed to bring one smaller carry-on bag on board, while their second (bigger) wheelie bag will be placed in the hold (free of charge) at the boarding gate.
– All customers travelling on/from 15th January onwards have been emailed and informed of these changes.
– New boarding passes have been redesigned to clearly show whether a customer should queue in the priority or non-priority queue.
– New signage and baggage sizers have been installed at the boarding gates at all of Ryanair's airports.
– From Monday, Priority Boarding (incl two bags) will be available to purchase up to 30 minutes prior to scheduled flight departure time on the Ryanair app.
Ryanair has already introduced new reduced checked bag fees (and increased check-in bag sizes) to encourage more customers to check in bags and reduce the number of customers with 2 bags at the boarding gates. Since September:
– The check-in bag allowance has increased from 15kg to 20kg for all bags
– The standard check-in bag fee has been cut from €/£35 to €/£25 for this 20kg bag
Ryanair's Kenny Jacobs said:

"Since we announced this new policy, we have had a positive reception from our customers. This new policy is fair, will speed up boarding and will elimate any risk of Ryanair flights being delayed because of too many bags being brought on board.

We wish to reassure all customers that they can still enjoy our two free bag allowance, but that from Monday (15th January 2018), only Priority Boarding customers will be allowed to bring two carry-on bags on the aircraft. All other customers can bring one smaller carry-on bag on board, while their second (bigger) wheelie bag will be placed in the hold (free of charge) at the boarding gate.

We have already cut our checked-in bag fee and increased the checked-bag size allowance which has also been welcomed by customers, particularly those who wish to travel through the airport without any baggage. We'll continue to listen to our customers and improve the travel experience of the 129m people who will choose to fly Ryanair this year."
Source Corporate Ryanair 12/01/2018
---
---